Five batsmen whose ODI high score is more than their Test best
Despite the nature of the Test format, several batsmen found a liking to stack big scores in limited-overs cricket.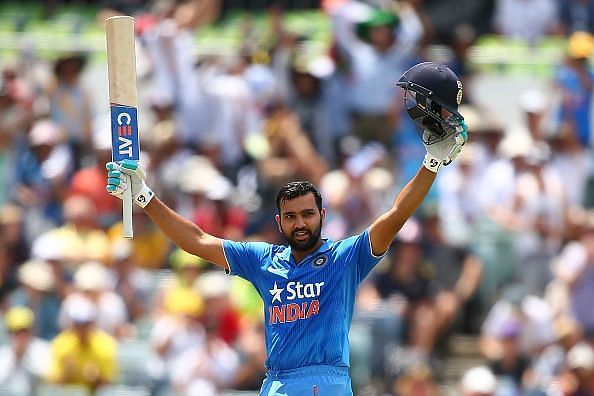 The survival of Test cricket is a debate that'll rage on for long, but T20s have undeniably changed the dynamics of the game's intermediate format: ODIs. Before batsmen started churning out double-hundreds in fifty over games, ODI batting used to be about starting carefully, building on it, and accelerating in the dying stages.
Despite the nature of the Test format, several batsmen found a liking to stack big scores in limited-overs cricket, even though they were unable to repeat the same in white clothing.
Here are five established batsmen whose ODI high score is more than their Test best:
Note: The list only contains batsmen, hence Shane Watson and Kapil Dev haven't been included.
#5 Mark Waugh (Tests: 153*, ODIs: 173)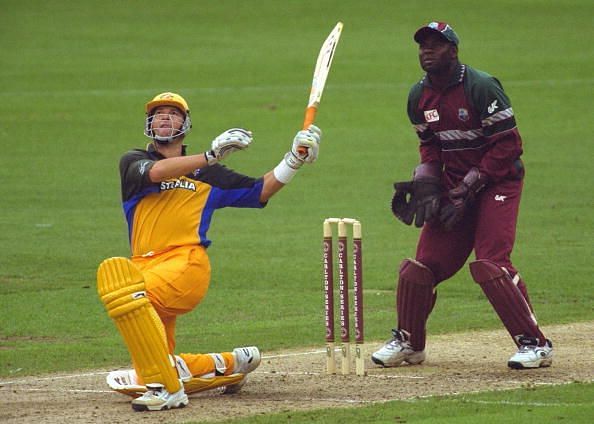 The silken drives and delectable cuts of 'Junior' were a sight to behold, irrespective of the format.
Against West Indies in the 2000/01 Carlton Series, the current national selector compiled a sublime 173, the then highest score by an Australian in ODIs.
With more than 14 overs in hand, Waugh completed his century, changing gears after reaching the three figure mark. He consistently went inside out over covers and targetted the cow corner against off spinners. As if the main bowlers weren't enough, he clobbered captain Jimmy Adams' harmless left-arm spin consistently to the leg side, motoring past 150 in the process.
Even towards the fag end of his innings, he looked sharp enough to cleanly smack the ball down the ground. The end eventually came when he sliced a Marlon Samuels delivery right down the throat of Brian Lara at long-on.
Two years later, against India in a Test at Chennai, the younger Waugh decided to bring his attacking game to the fore. In response to India's 424 in the first innings, he employed a positive mindset against the spinners: rookie offie Harbhajan Singh was targetted with swift feet, while Kumble was adroitly dealt with using the depth of the crease.
Even as wickets tumbled, he motored along, sending Venkatapathy Raju to the cleaners on his way to his 14th Test hundred. He eventually remained unbeaten on 153.
#4 Saeed Anwar (Tests: 188*, ODIs: 194)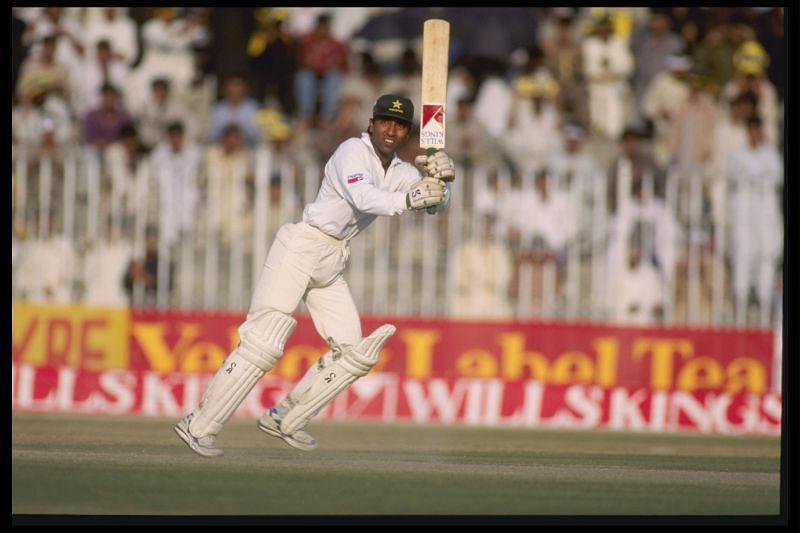 A thorn in India's flesh on many occasions, Anwar was the cornerstone of the Pakistani team of the 90s.
Exactly 13 years after Sir Vivian Richards' world-record 189, Anwar came close to amassing a double hundred, flattening the Indian attack with a jaw-dropping 194 at Chennai.
Unperturbed by Shahid Afridi's early dismissal, Anwar was joined by Rameez Raja (who was playing his final ODI), and the duo built an 86-run stand, laying the foundation for the innings. The bulk of the scoring was done by Anwar, highlighted by the fact that he completed his century in less than 23 overs, with the total score reading 140.
Cramps seemed to be his only competitor, as the Indian bowling attack looked completely listless in the face of the onslaught.
Against India (once again) in the 1999 Bangalore Test, the southpaw opened with Wajahatullah Wasti instead of Shahid Afridi, receiving a reprieve very early in his innings when Mohammad Azharuddin dropped him at second slip. There on, his delightful drives and flicks ensued, making Indian fans' worst nightmare a reality.
He mixed his watchful approach with some clean hitting off the spinners to keep the momentum going. As the innings progressed, he toyed with the bowlers, sending them to the cleaners with expansive strokes down the ground. He ended with 188, a perfect way to forget his 12-ball duck in the first innings.
#3 Faf du Plessis (Tests: 137, ODIs: 185)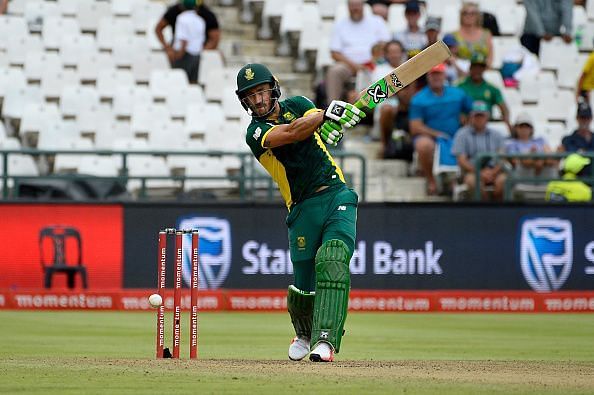 Invariably a slow starter, Faf du Plessis looked in his element from the word go against Sri Lanka earlier this year in an ODI at Cape Town, piercing gaps with ease in the first 10 overs itself. He notched up his 25th ODI fifty with a picture perfect cover-drive, sending the alarm bells ringing for captain Upul Tharanga.
A Lahiru Kumara yorker came darting in on 98, but du Plessis skillfully dug it out to deep square leg to reach three figures. The happiness was writ large on his face, and on AB de Villiers', who was by his side.
The intensity didn't wane, as he conjured up unconventional strokes to race past 150. It was as if it was de Villiers batting with du Plessis' jersey on. He went for one shot too many, perishing on 185, quite possibly in pursuit of a double hundred.
Exactly four years earlier, du Plessis had flattened the Kiwis with his best Test score, a 137 that helped the Proteas crush the visitors by an innings and 193 runs. Facing a strong attack featuring Trent Boult, Doug Bracewell and Neil Wagner, du Plessis, assisted by fellow centurions Hashim Amla and Dean Elgar, helped post over 500 for the Proteas. The Kiwis couldn't manage even 250 in either innings.
#2 Martin Guptill (Tests: 189, ODIs: 237)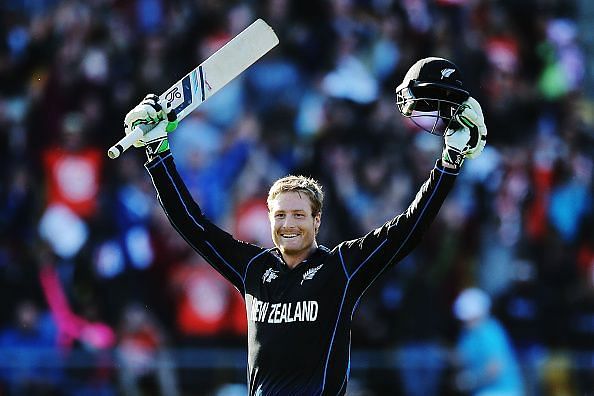 A tremendous stroke-maker with sound hand-eye coordination, Guptill has been one of the stars of New Zealand's resurgence in coloured clothing.
Against a West Indian attack that had been beaten black and blue by AB de Villiers twice in the year, Guptill smashed a jaw-dropping 237 in the quarter-finals of the 2015 World Cup, the highest WC score of all time.
Starting with a first-ball boundary off Jerome Taylor to signal his intentions, Guptill adorned the aggressive role at the start to compensate for a scratchy Brendon McCullum. The small boundaries aided his charge: he went straight to fifth gear after reaching his hundred and in no time, was among the highest individual scorers in ODIs. A six-hitting spree ensued, but he still fell short of Rohit Sharma's world record by 27 runs.
Despite playing close to 50 Tests, Guptill has still not managed to establish himself in whites, invariably succumbing to poor strokes after trudging to slow starts. The 189 that he scored against Bangladesh in 2010 remains his best Test score, made, surprisingly, at No.5.
Having succumbed to 158-5 in the first innings, New Zealand needed a strong response from their lower order. Guptill, along with McCullum (playing at No.7), rescued the Kiwis with a 339-run stand that made a mockery of Bangladesh's initial charge.
#1 Rohit Sharma (Tests: 177, ODIs: 264)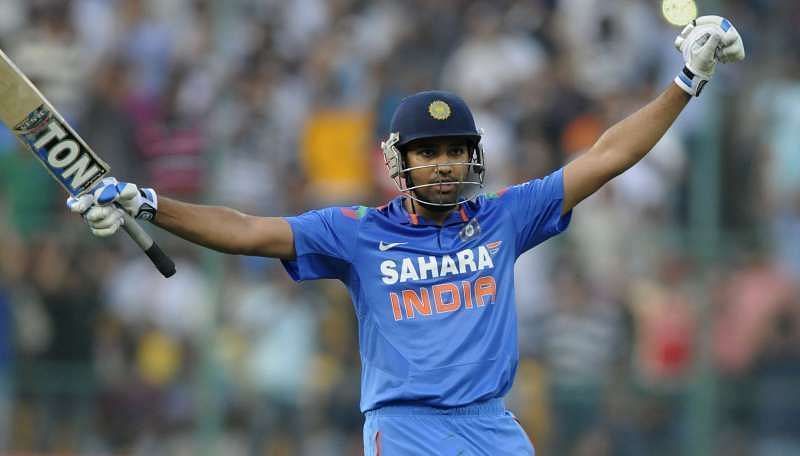 From being one of many in India's choc-a-bloc middle-order to becoming India's premier opener in limited-overs, Rohit Sharma's evolution over the years has been a highlight of India's post 2011 WC ODI journey.
A double century against Australia in 2013 made the world sit up and take notice, but another one, just a year later, confirmed his stature as one of the best ODI batsmen of the current era. 264 in an ODI innings used to be a competitive team total a decade and a half back, but Sharma managed to make that in 173 balls.
Playing his first ODI in 10 weeks, Rohit began watchfully, and was helped along with subpar fielding by the Lankans. The initial scratchiness made way for fluency as the innings progressed, turning into complete authority as he closed in on a towering score. He made it a point to attack the spinners, even as he approached his second double hundred.
Drenched in sweat, he continued to plunder the attack even past 200, helped along by a calm Robin Uthappa. Past a point, it seemed like a highlight reel of a video game, but he eventually did get dismissed off the final ball.
His long-pending Test debut came in 2013, during West Indies' tour to India, and he wasted no time in making up for the lost years. With half the side back in the hut, Rohit decided to play his natural game, using his feet comfortably against the spinners and helping India rebuild the innings.
With a reliable Ashwin for company, Rohit built on his start to reach a century on debut, punching the air with relief after reaching the landmark. 21 Tests later, it remains his highest Test score.
Credit- Sportskeeda